CEO Greetings
HOME : Company Introduction : CEO Greetings
Thank you for visiting the World Model homepage.
---
World Model has grown steadily on the basis of practical experience and accumulated know-how in the field.

World Model has achieved various business performances for many models in the relevant fields, such as shipbuilding, shipbuilding equipment, and maritime shipping, etc.
and will continue to do our best in performing research and development of new technology and realizing our customers' impression.
Profile
Hyundai Heavy Industries (Shipbuilding Division)
Hyundai Merchant Maritime Company (Maritime)
Shin Seong Shipping Company (Maritime)
Awards
The Navy Chief Model Ship Contest
Awarded Gold Prize in May 2001
Awarded Silver Prize in May 2002
Awarded Bronze Prize in May 2003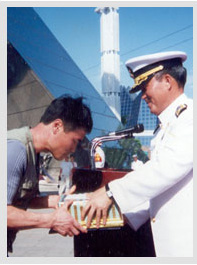 ---
Production Design Team Leader Noh, Seong Sik
Daejeon Expo Science Park Outdoor Exhibition Hall
Gold Prize Award for the Navy Chief Model Ship Contest